11-in-1 USB-C HUB ProfiG™
$69.95
Regular price
$139.90
Now you can easily connect...All your devices at once! The 11-in-1 USB-C HUB ProfiG™ Is Here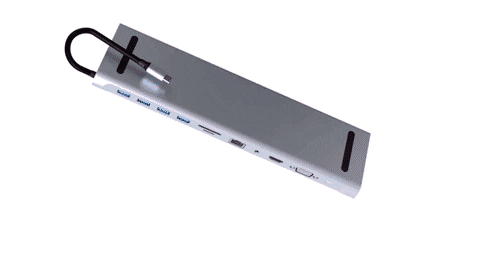 If you are looking for a hub that has everything you need then this docking is for you. In one portable hub, you get all the functions you'll ever need.
The 11 ports make working convenient and simple. Data transfer and power delivery are quicker than ever. The HDMI 4K adapter creates perfect video output.
It is the all-in-one tool every laptop needs have. Now you have access to all the ports you'll ever need on one sleek hub.
Product at glance:
Features:
All the ports you need- The adapter packs 11 ports in one hub. No more clutter around the laptop. Plugin everything in a tidy manner.
Compact&Conveniet Design- Strong premium aluminum enclosure and high-strength cable provide additional durability. The USB-C Hub's slim and compact design allows for convenient storage for on-the-go use or when traveling. The sleek, slim and stylish profile complements your laptop and takes up limited space on your desk.
Upgrading your laptop- 11-in-1 USB-C HUB ProfiG™ instantly adds 1x 3.5mm Audio Jack, 1x Gigabit Ethernet port, 1x USB 3.0+3x USB 2.0 ports, 1x TF Card slot, 1x SD Card slot, 1x HDMI Port, 1x VGA port and 1 USB Type-C interface to your laptop with its convenient Plug-and-Play technology requiring no driver or software installations to work. (the connecting cable is 166mm. If the connecting cable is not long enough, please buy a type-C extension cable).
Crystal Clear HDMI Output- Start streaming the highest resolution videos and shows via the 4K HDMI port to HDMI-enabled devices with resolutions up to 4K/30Hz and 1920 x 1080 (1080p)/60 Hz. Downward compatibility is supported with 1440p/1080p/720p/480p/360p resolutions. You can mirror/extend your screen to any external device and enjoy crisp, clear and colorful imagery.
SuperSpeed Charging- PD2.0 USB-C Power Delivery Port for Charging Laptops and Devices and Powering Connected Devices. Transmit your data and charge your devices both at the same time. Auto Adaptive Voltage between 14.5V/20V.Up to 100W.
Reliable Data Transfer- 11-in-1 USB-C HUB ProfiG™ allows you to seamlessly transfer your data whether it be photos, videos, music and other files through its memory card and thumb drive slots. Connect to your external storage, keyboard, mouse, headset, optical drive, and more. Backward compatible with previous USB generations e.g. USB 2.0/1.x devices.
Why it is for you- The ports on a laptop are never enough. this gives you access to every port you need.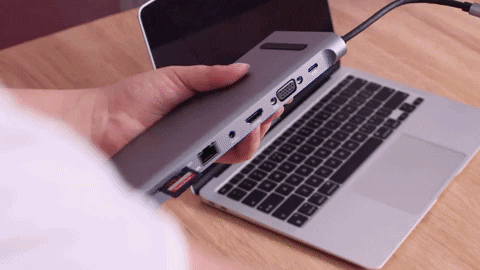 WHAT DO WE GUARANTEE?
30

 

Days Money Back:

 Any defects in materials or workmanship within 30 days of the date of delivery? We'll send a full replacement. And of course free of charge.

100% Satisfaction: your satisfaction is our biggest concern. Didn't have a positive experience for any reason? We'll do whatever it costs to make you feel satisfied once again.
50% OFF for a limited time only!
More than 1000+ happy customers :)
11-in-1 USB-C HUB ProfiG™

$69.95

Regular price

$139.90