iCharge Pro- Mini WiFI Speaker Chair
$39.95
Regular price
$69.95
iCharge Pro - Portable mini chair-shaped wireless charger with a speaker. Creative chair shape, unique and novel, you can choose a horizontal or vertical position for wireless charging/phone stand function.
Suitable for all QI mobile phones on the market. Charging performance has been increased by more than 20%.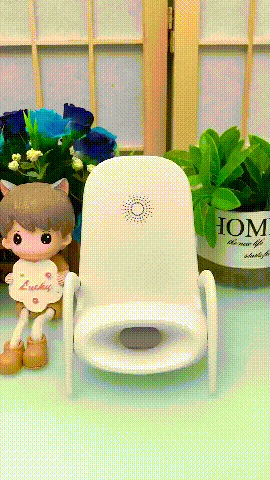 FEATURES:
✅ Super high external sound quality, High-efficiency charging, and multiple protection.
✅ Chair shape, ergonomic visual design standards, perfect for face recognition, watching movies, texting, hands-free calling, live chat
✅ Increase fan cooling, let the phone cool down, keep fast charging, improve charging efficiency.
✅Each piece is Seiko polished, arc round, with perfect craftsmanship.
✅ It can be used as a mobile phone stand. It can be used as home decorations.
Specifications: 
Charging function: QI standard
Output: 10W
Material: ABS
Input range: 9V / 1.67A, 5V / 2A
Power output: 10W
Charging frequency: 105-205 KHz
Conversion rate: 80%
Charging distance: 4-8mm
Size: 140 * 96 * 95mm
iCharge Pro- Mini WiFI Speaker Chair

$39.95

Regular price

$69.95