Gaming Glasses - Blue light Protection
Play Longer, Live Better
Protecting your eyes from Blue light and UV rays from digital devices is essential for anyone looking at screens several hours a day. We all spend more time in front of screens than we should, but with our gaming glasses we can say goodbye to blurred vision and digital eye strain! 
Enjoy playing your favorite video games or watching TV shows without having to worry about redness and dry eyes. Our gaming glasses come with special blue light blocking lenses which help you maintain normal production of sleep, hormone levels, and melatonin that also aid you in falling asleep and feel less groggy during the day. 
You can wear them for several hours a day with the new innovative earpieces and hinges on the glasses for both men and women.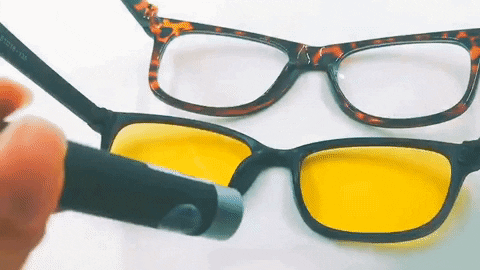 Benefits:
FILTER BLUELIGHT - Special tint in our lenses blocks out the harmful blue light rays
PREVENT EYESTRAIN - A most common problem caused by long exposure to digital screens in now past
PREVENT SLEEP DISRUPTION - Our gaming glasses help maintain normal production of sleep hormones Melatonin
NO BLURRED VISION - Our lense help when extensive viewing of the game screen leads to eye discomfort
Gaming Glasses - Blue light Protection