Ramax-Ultimate All-In-One Charger
$59.95
Regular price
$99.95
The Ultimate Apple Lovers Charger
For iPhone, AirPods, and Apple Watch
Saves you time and energy. Using wireless charging it can charge your phone, smartwatch, and earbuds all at once faster than any old charger out there.
You'll save hours of charging each day by using it. this charges at 4X the speed of cable charging and works on all phone models.
Take advantage of what the future offers. it gives you the power to be ahead of time and ready to go out in style.
Features:
Charge 3 devices at the same time- It gets ready your phone, earbuds, and smartwatch all at once in minimal time.
Charging at light speed- It charges wirelessly at 4X the speed of any old cables. Stop waiting and start living.
For anywhere and any phone- You just need one plug to charge everything with this. Easily use your phone while charging it.
Why this is for you- Stop waiting to charge your devices one by one. this gets ready all you need at 4X the speed.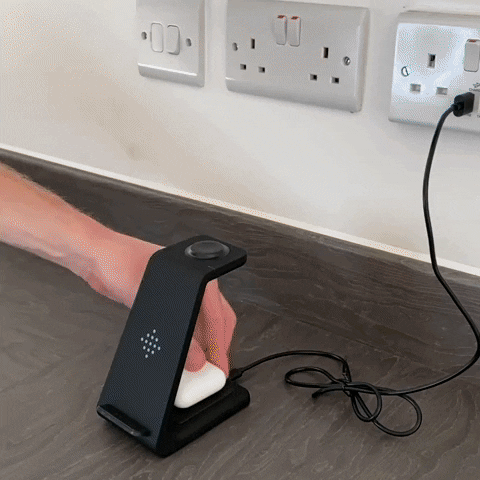 FOR WHICH DEVICES CAN YOU USE THIS CHARGER?
【Apple】iWatch SE/6/5/4/3/2; Airpod Pro/2; iPhone 12, iPhone 12 Pro, iPhone 11, iPhone 11 Pro, iPhone 11 Pro Max, iPhone XS, iPhone XS MAX, iPhone X, iPhone XR, iPhone 8, iPhone 8 Plus;

WHAT DO WE GUARANTEE?
30

 

Days Money Back:

 Any defects in materials or workmanship within 14 days of the date of delivery? We'll send a full replacement. And of course free of charge.

100% Satisfaction: your satisfaction is our biggest concern. Didn't have a positive experience for any reason? We'll do whatever it costs to make you feel satisfied once again.
More than 1000+ happy customers :)
Ramax-Ultimate All-In-One Charger

$59.95

Regular price

$99.95